Is there money in becoming greener?
Businesses use plastics in a way that means products are made, used and thrown-away. Researchers are looking at how this way of thinking (model) could change, leading to less plastic waste without affecting profits. This is called a 'circular' business model because plastics stay in a system that feeds into one another.
Can I see what circularity looks like?
Yes! Watch and listen to the Circular Economy Centre's easy to follow step-by-step explanation.
Is there an example of a circular business?
Yes. Researchers have been working with Charpak, a local company who make plastic packaging. Instead of a lid for food tubs that can only be used once then has to be thrown away, they have designed a twist lid.  It is made from recycled plastic, designed to be used multiple times, and can go on to be recycled. This means no waste.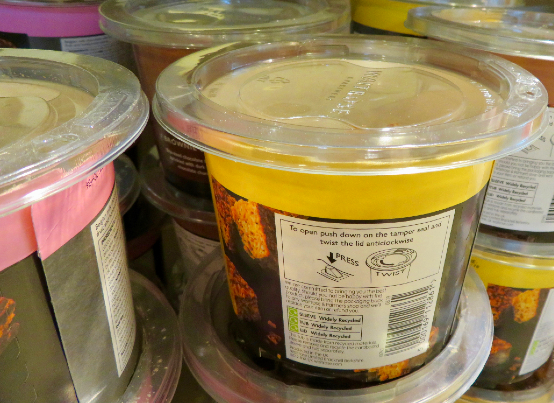 Lightweight, durable and recyclable plastic removes the need to use non-recycled materials such as polystyrene, laminated cardboard, PVC, Polypropylene or foam. Read more here.
Is circularity only about packaging?
No. Circularity is about changing any business to make it less wasteful. It also means thinking about the effects on other people outside the business. What customers think is important. Some are suspicious that environmentally friendly adverts are a trick to increase sales (green washing). Circularity is not only about better marketing. Circularity is about changing every part of the business, which is difficult.
What is difficult about becoming less wasteful?
Research at the Circular Economy Centre found different difficulties. One problem for plastics manufacturing companies was other businesses. Change in one business affects their suppliers and buyers (value chain or supply chain). It is similar to a chain in house-buying: controlling others to get things done is tricky. For businesses, removing plastic waste requires cooperation from everyone else. It is hard to change if no one else wants to. To help this process of negotiation, businesses have joined the UK Plastics Pact.
Still interested? 
Research into businesses is happening here at Cambridge University. If you want to know more about sustainable business solutions, watch the Circular Economy Centre's approach. If you are interested in doing the work rather than watching other people do it, get inspired to change your business by Khaled Soufani's webinar here.