Can plastic waste power trains?
At the moment, most trains in the UK are powered using diesel or electric. Researchers are looking at the possibilities for using hydrogen gas and chemists at CirPlas are finding out if plastic waste might be a way to produce it. The method for extracting hydrogen bubbles from plastic is called 'polymer photoreforming'.
What is special about hydrogen gas?
Hydrogen could be a better option than other fuels because it does not result in pollution that is making the world too warm. This is what people mean when they talk about clean energy, renewable fuel, zero emissions or green energy.
But isn't burning plastic waste bad?
This process does not involve burning plastic. The plastic (polymer) is mixed with chemicals and exposed to sunlight (photo reforming) and the hydrogen bubbles start to float from the plastic.
Can I watch the experiment?
Yes! Watch and listen to Taylor Uekert's easy to follow step-by-step demonstration. 
Is this just an idea or is it being used anywhere?
Hydrogen is being used to power trains in Germany, but there are plans to use hydrogen to power trains in the UK. Construction sites along a stretch of the new HS2 railway network are using hydrogen and solar power.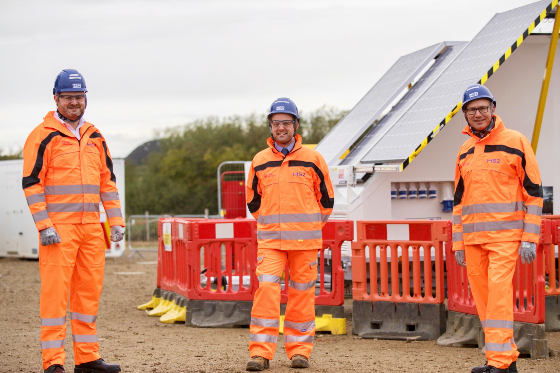 The cabins provide a kitchen, seating area, separate toilet and changing room for workers, with the power to run the heating, sockets, kettle and microwave coming instantly from the battery bank which is constantly fed by the built-in hydrogen fuel cell and solar panels' (read more here).
Still interested?
Research into energy supply, conversion and demand is happening here at Cambridge University. If you want to know more about hydrogen trains in the UK, watch this demonstration. If you are interested in doing the work rather than watching other people do it, get inspired to become a scientist by Taylor Uekert's story here.