In Search of 'Good' Energy Policy is an Energy @ Cambridge Interdisciplinary Research Centre Grand Challenge, which focuses on developing and delivering new collaborative activities that deal with understanding the principles of formulating 'good' energy policies. Working with partner organisations from academia, industry and government we aim to develop strategies for applying these principles to support a diverse range of energy policy scenarios.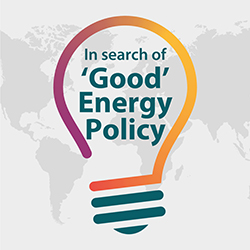 Our activities focus on a wide range of organisational structures (community groups, industries and governments), geographical regions, and existing and emerging energy technologies. 
Some of the key themes we explore in order to better understand energy policy trade-offs include:
Institutional design and new business models

Sustainable energy models

Legacy investments 

The use of evidence and prediction

Consumers, public trust, understanding, attitudes and beliefs

Concepts of what is 'good' and 'just' in the context of energy policy

The role of the state and collective action
The activities of the In Search of 'Good' Energy Policy Grand Challenge are supported by an interdisciplinary Coordination Committee chaired by Professor Michael Pollitt. Our research community spans the arts, humanities, social sciences, biological and physical sciences and technology.
Activities 
We organise collaborative research projects, stakeholder engagement activities, industry and public sector focused events and workshops, an international visitor and exchange programme, and publish research and working papers. The In Search of 'Good' Energy Policy Seminar Series explores what constitutes a 'good' policy from different disciplinary perspectives. Click here for the full Seminar Series audios and separate Speaker Interview videos.
In March and July 2018, with support from the EPSRC IAA, Professor Michael Pollitt visited China to support the Foreign Commonwealth Office's policy engagement work in energy and climate change in China. He visited Beijing, Nanjing, Guangzhou and Shenzhen for a series of presentations and meetings with electricity industry stakeholders. The work discussed the UK's experience of electricity market design and network regulation, how this might inform China's recent renewed effort to create competitive wholesale power markets and introduce incentive regulation of its electricity networks.
Through the In Search of 'Good' Energy Policy Small Grants Awards 2018, we were pleased to support small multi-disciplinary projects, with a view to supporting new research partnerships, typically involving two or more partner academics from different departments and schools. Energy @ Cambridge secured £10k funds from the Isaac Newton Trust/ Energy Policy Research Group (EPRG) to support 5 new small collaborative projects. 
The full list of the 2018 projects, awardees and outcomes can be found here. 
A workshop on Chinese Power Market Reform and Opportunities for UK Business was held in May 2017 with the British Embassy in China, EPRG and Energy @ Cambridge. The summary of the event is available here. 
A Faith, Energy and Society Workshop was held in March 2017 and organised by the In search of 'good' energy policy coordination group led by Dr Jonathan Chaplin. It brought together academics and practitioners from different disciplines and institutions throughout the UK. The full commentary, "Harnessing religious energies for better energy policy", is available by clicking here.
The In Search of 'Good' Energy Policy Final Report is available here.